Posted by:

Sam Ali
Comments:

0
Post Date:
August 22, 2023
---
Sam Ali
Precious Metals and Aussiemint: Australia's Gold and Silver Refinery Expertise
Australia has a rich history with precious metals, and at the heart of this industry is Aussiemint, the country's leading refiner and supplier. Located in South Kingsville, just a 15-minute drive from Melbourne central, Aussiemint has become synonymous with quality, reliability, and unparalleled expertise in the world of precious metals.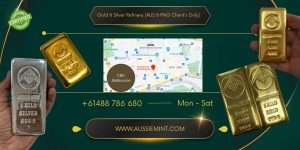 Understanding Precious Metals
Precious metals, including gold, silver, platinum, palladium, rhodium, and others, are rare commodities with high economic value. Historically used as currency, these metals are now primarily traded as financial assets. Investors often turn to precious metals to diversify portfolios and hedge against inflation and uncertainty. Their applications span across various industries, from jewelry to advanced electronics.
Why Choose Aussiemint?
There's a reason why Aussiemint stands out in the precious metals industry in Australia. Our brand's success is deeply rooted in one integral concept: honest, quality service to the customer. Unlike others who might rush their clients, we prioritize understanding your unique circumstances to provide the best metals tailored to your needs.
Our technologically advanced laboratory, equipped with steadfast machinery and a team of experts, ensures that every assay and refinery process meets the highest standards of professionalism and accuracy. This commitment to excellence has led to numerous word-of-mouth referrals and a loyal customer base that keeps coming back.
Services Offered
Aussiemint offers a comprehensive range of services to cater to both industrial consumers and private investors. Our offerings include:
Refinery of metals
Metal recovery
Analysis of metal value
Comprehensive metal supply
Bullion trading services
And more
A Legacy of Trust
Our small, highly specialized team has been with us since the beginning, dedicated to providing world-class services. The reliability and consistency in our service have made us the go-to choice for miners, jewellers, and scrap dealers across Australia.
Visit Us Today
Discover the Aussiemint difference for yourself. Whether you're an industrial consumer, a private investor, or someone curious about the world of precious metals, our approachable team in South Kingsville is ready to assist you.